High-quality components, extensive expertise, high real net output ratio and professionally trained staff ensure the superior quality and tremendous longevity of our time-tested products.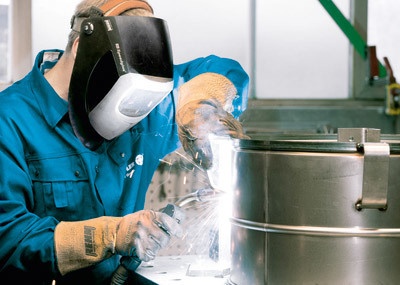 FROM WELDING...
Our high real net output ratio allows us to provide a flexible response to your requirements.
...TO PAINTING...

We would be happy to provide our vacuum systems in the colours you specify.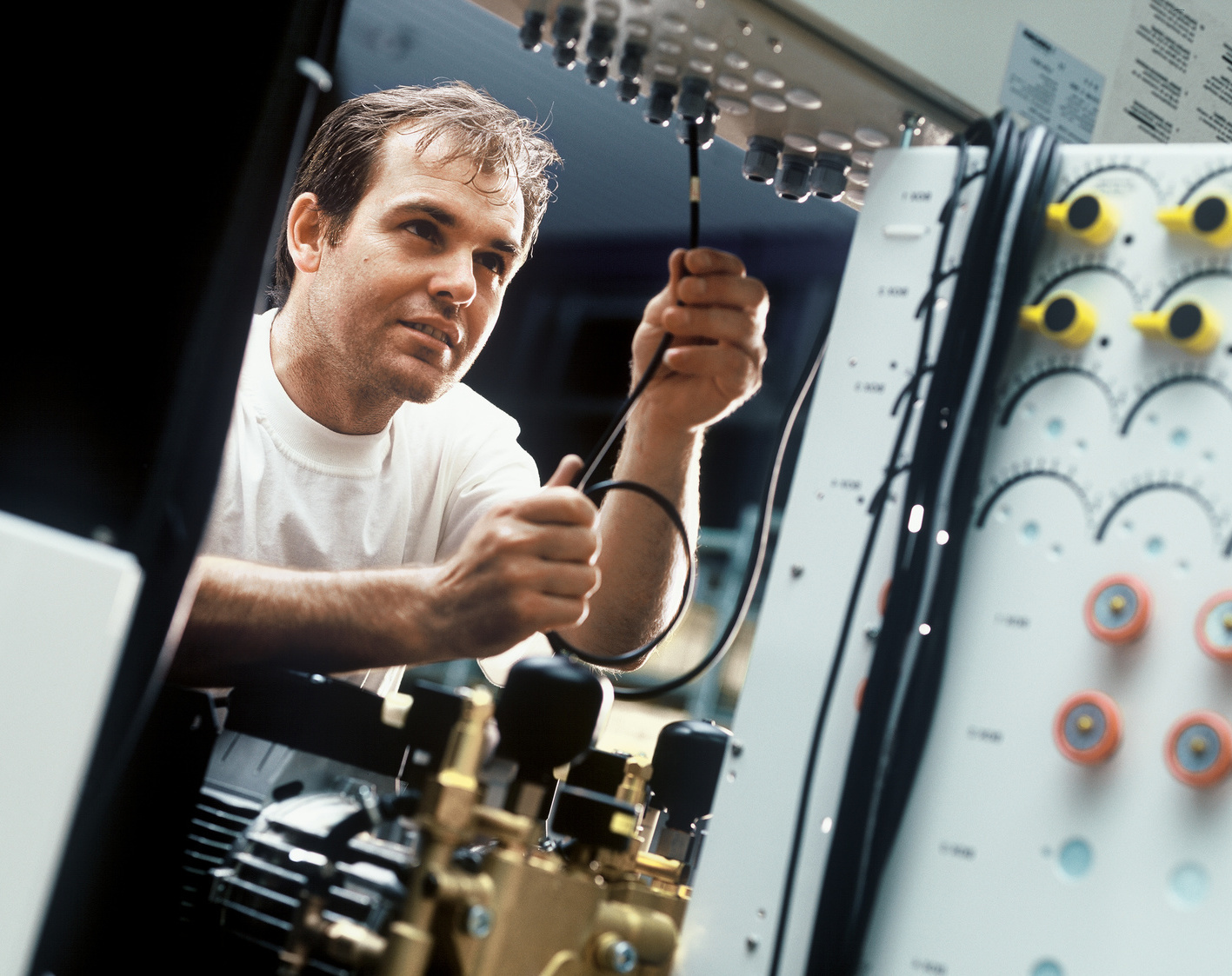 ...INSTALLATION...
Made in Germany - optimally structured workflows ensure the highest quality standards.
...100% OUTPUT CONTROL...
We demand the highest quality of ourselves when it comes to output control.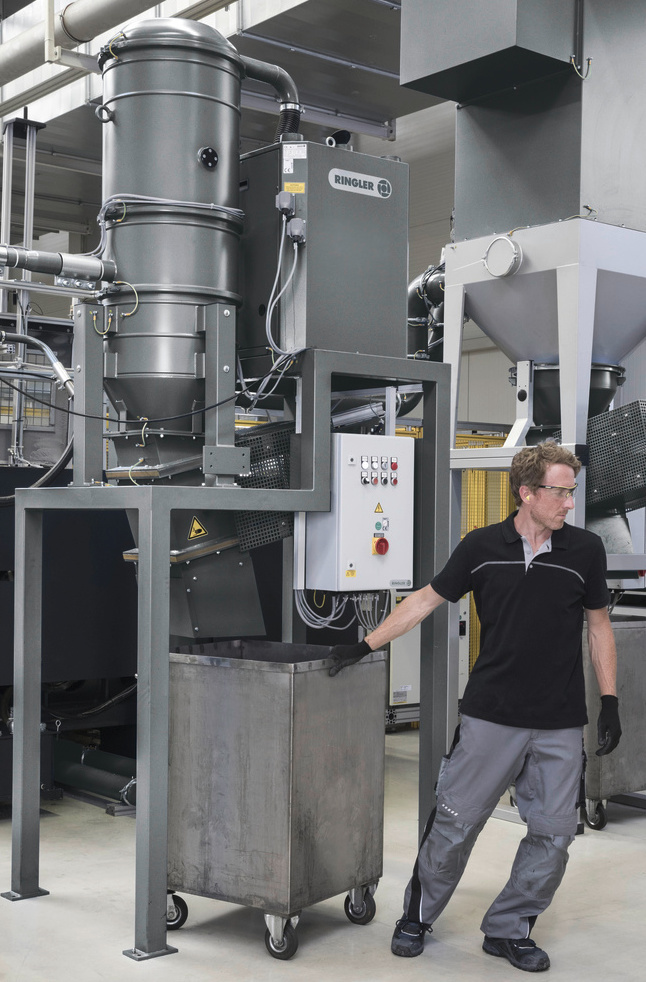 ...ALL THE WAY TO INITIAL START-UP WITH THE CUSTOMER!
The Competence Center Industrial Vacuuming Ringler Kärcher Group offers complete solutions from a single source, from conceptual design and production to initial start-up with the customer, and as a reliable servicing partner, we go even further.
Made in Germany
Why you can rely on it
Ringler produces in Germany exclusively.
We advertise our products with the slogan "Sturdy top technology – Made in Germany.
Thanks to our excellently trained and qualified employees in the fields of administration, manufacture, assembly, logistics and service, we can guarantee top quality of our products. We believe that we can only ensure this standard in future in close spatial cooperation. Yes, we are campaigning for Germany Inc. Naturally, our operational circumstances are not representative of the entire industry, but we do believe that we - like so many others - have a responsibility as a medium-sized enterprise: a responsibility for Germany as a business location and a responsibility to our employees. This isn't just a flowery phrase but our philosophy. Our customers want quality and reliability. They get both with Ringler products.
Product Responsibility
Our goal: Constant increase of environmental compatibility.

Each generation of Ringler equipment is to be more effective and more environmentally compatible than its predecessor. This effort is founded on two essential arguments: On the one hand, environmentally compatible products give us the best opportunities of reducing the environmental stress caused by our work. On the other hand, environmentally compatible equipment is often economic to boot.

Environmental protection in the product development process
Striving for sustainability, the journey is the goal. Ringler has been on this path for decades and remained on it with an exemplary dedication. Development of our new products is aligned with the term of "life cycle thinking". This means that the entire product life cycle is being considered in the planning phase as well. All sections of the product lifecycle are analysed for essential environmental aspects during development and optimised to keep strain on the environment as low as possible.

Raw material production
Our products are made of high-quality raw materials. Good materials clearly extend the service lives of Ringler equipment, thus protecting the environment.

Part production
We closely cooperate with our suppliers where the environment is concerned. We put great value on avoiding hazardous substances and ensuring effective environmental management.

Production
Our production processes already keep their effects on the environment low. Nevertheless, we have committed to constant improvement and strive to affect the environment even less through innovative processes. Examples for such processes include heat recovery, water recycling, solar energy, etc.

Distribution
Where at all possible, we use environmentally compatible means of transport, such as trains, for dispatching our devices. Distribution by truck still makes up the greatest share for logistics reasons, however.

Use
The properties of Ringler products are subject to constant improvement as well. Innovative solutions reduce water and power consumption, dust and noise emissions.

Repairs
Products are designed for easy repairs as well. Our service centres ensure competent repairs around the world.

Recycling and disposal
Since 2005, Ringler has been taking back old devices free of charge in compliance with the European legislation. Simple disassembly and selection of suitable materials permit good utilisation of old devices. 90 percent of every piece of Ringler equipment can usually be recycled.

Product compliance
Legal and customer-specific requirements for Ringler products are clearly increasing world-wide. Therefore, we systematically ensure compliance with all legal and customer-specific requirements around the world when developing new products.
• Environmental requirements in the technical specifications: Environmental requirements are a fixed part of our technical specifications. We have an environmental checklist to review how we can make our equipment even more environmentally compatible.
• Environmental requirements in the supply chain: Legal requirements for Ringler products clearly increase world-wide. In order to systematically pass on these requirements to our suppliers, we have introduced dedicated Ringler standard series for environmentally compatible product design.

Best-Practice examples for environmental protection of Ringler products
Environmental compatibility of the product is very important for Ringler. This is the case because our stakeholders have expectations for our equipment that we want to meet, but also because we strive for excellence in the area of ecology. This includes that our products are energy- and resource-efficient and that we want to keep the ecological effects of our equipment as low as possible. These two reasons drive us to continually develop and improve our products in terms of environmental aspects.

ErP eco design directive
For information on the regulation EU 666/2013, requirements for environmentally compatible design of vacuum extractors, Annex I item 2b Information obligations of the manufacturer, please contact your competent Ringler service.